Our Testimonies
Stephen J. Wesco
I was four years old when God showed me clearly my sin and need of salvation. I was sitting in Mom's lap in the big ugly orange chair in the family room. We were working on my Bible memory verses. We came to the verse, "Believe on the Lord Jesus Christ, and thou shalt be saved" (Acts 16:31). As a curious little boy, I asked what the verse meant. I thank the Lord that my mom took the time to show me from the Bible the way to "be saved!"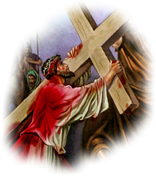 She showed me that I was a sinner (Romans 3:1-11; 23). I saw that the wages for my sin is death (Romans 6:23), and that this death is not only dying but everlasting burning in a place called Hell (Revelation 20:14). Mom showed me that God loves me and died for me even though I am a sinner (John 3:16; Romans 5:12).
I already had heard the account of Jesus' life and death many times, but she told it to me again. After she told me about Jesus' resurrection from the dead, she turned to Acts 16 where a jailer of Philippi had fallen at the feet of Paul and Silas and asked, "What must I do to be saved?" Paul declared, "Believe on the Lord Jesus Christ, and thou shalt be saved" (v. 31).
My mom shared with me that I needed to be saved just like that jailer because I was a sinner and on my way to Hell. On that day I believed on the Lord Jesus Christ and was eternally saved (John 3:16). O, how amazing the grace of God that could save a sinner, any sinner, and even a sinner like me!
A few years after this, God laid upon my heart that I needed to obey the Lord in the waters of Baptism. On Easter Sunday I went forward at the invitation and asked to be baptized. I was counseled by Mr. Coffman and went through several weeks of Christian Life Class. Then on one Sunday at First Baptist Church in Mishawaka, Indiana, I was baptized by immersion by Pastor David L. Miller.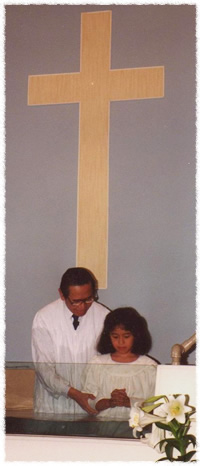 Evelyn F. Wesco
God placed me in a family with a Christian heritage and Godly parents. My grandparents and my parents prayed for me and my siblings daily and taught us Scripture. However, though I grew up with a thorough knowledge of the Bible and who Jesus was, I did not know Him as my personal Savior. My father read the Bible to our family every evening, and when my father read the passages regarding the return of Christ, I realized that I was not ready for His return. My parents and I discussed this, and I accepted Christ as my Savior when I was four years old.
As I grew older, something still was not right. I had continual conflicts with my younger sister. During this time, Scripture began to convict me of areas in my life that I had not fully surrendered to God. At the same time, the memories of my salvation were already unclear which caused me to doubt my salvation. Then God used Romans 10:9 to speak to my heart, "That if thou shalt confess with thy mouth the Lord Jesus, and shalt believe in thine heart that God hath raised him from the dead, thou shalt be saved." This was the reassurance that I needed! With this verse, I reconfirmed my salvation and was baptized on April 11, 1993 at Mandarin Baptist Church in Pasadena, California.
As the years passed, my growth in Christ has had its ups and downs, but all the while the assurance that it is Christ who is living in me (Galatians 2:20) has sustained me. My relationship with my sister did not miraculously change overnight, but we grew to be the best of friends. I continue to marvel at His wonderful and loving grace that has kept me. Truly I live, "yet not I, but Christ liveth in me: and the life which I now live in the flesh I live by the faith of the Son of God, who loved me, and gave himself for me."
---
More about us:
Our Salvation Testimonies