Calling of Stephen Wesco
A Burning Fire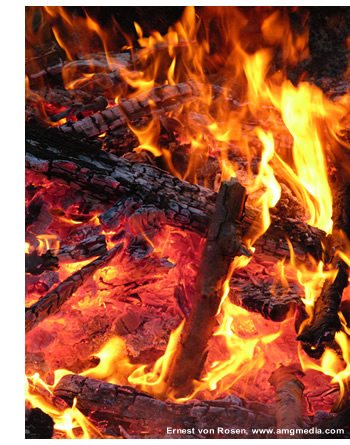 When everyone was against the Old Testament prophet Jeremiah and he felt like quitting the ministry of Jehovah, he declared, "But his word was in mine heart as a burning fire shut up in my bones, and I was weary with forbearing, and I could not stay" (Jeremiah 20:9). This declaration of Jeremiah is the heart throb of my life and calling to the ministry. As I spend time in the precious Word of God, a fire is kindled within me. It is a fire that I cannot hold in, contain or suppress. I must boldly proclaim it to the world through the filling of the Holy Spirit! My greatest fulfillment in life is sharing the life-changing truth of the Gospel with a lost and dying world.
After hearing a message by Dr. Eldon Stevens entitled A Piece of Wood, I wrote the following:
I, Stephen James Wesco, from this day, January 9, 2000 until the day I die will be a piece of wood that God can use anywhere in His revival fire. [By the grace of God,] I will not get soaked in sin. I will be pure. Jesus died for me. There is nothing less I can do but give Him my life. God can do what He wants and I will go. Here am I Lord; send me. If I am to be a pastor, evangelist, missionary, chalk artist, factory worker, business man, doctor, or lawyer I will still be burning for God. I will remove the sin from my life so that I can be dry. As a piece of wet wood is hard to light on fire, a man wet in sin cannot burn for God. But [by the grace of God] I will not get wet in sin. Someday as I look into my Lord's face, I want Him to say, "Well done my good and faithful servant." I want to be a piece of wood!
Calling of Evelyn Wesco
When I was 14 years old God impressed upon me the words of the Great Commission found in Matthew 28:18-20, "And Jesus came and spake unto them, saying, All power is given unto me in heaven and in earth. Go ye therefore, and teach all nations, baptizing them in the name of the Father, and of the Son, and of the Holy Ghost: Teaching them to observe all things whatsoever I have commanded you: and, lo, I am with you alway, even unto the end of the world. Amen." I took this command personally and recognized that it was my responsibility to share the Gospel with everyone I could.
At the same time, the Lord used the words of I Corinthians 7:34 to give me further direction, "There is a difference between a wife and a virgin. The unmarried woman careth for the things of the Lord…." Although I hoped that the Lord would one day provide me with a godly husband, I purposed that until He did so, I would totally devote myself to the Lord in my family, in my church life, in music, in my witness, and in preparing myself to serve the Lord throughout my life. The Lord led me to dedicate my single years to serving Him wherever He took me.
This burden led me to study music and eventually to major in music and premedical studies with the anticipation that God might lead me into medical missions. In the summer of 2006, with the counsel and encouragement of my parents, I went on a short term medical missions trip to the Philippines to pursue God's leading. I found the work to be very fulfilling. The mission trip also increased my burden for ministry.
As I was entering my last semester of college, my parents and I began to seek the Lord for the next step in His leading for my life. As we were in the midst of seeking the Lord's will, Stephen approached my father asking for permission to become better acquainted with me in a courtship relationship. We found many common interests, but one of the most significant was a burden to respond to God's call to service.
As we are now married, my burden for ministry continues as strong as ever. Yet, I see it being fulfilled through different eyes: "…but she that is married careth for the things of the world, how she may please her husband" (I Corinthians 7:34). My focus is toward my husband as his help meet (Genesis 2:20-22) and toward my family as a godly mother and how we together can be effectively used of the Lord in His harvest field.
---
More about us:
Our Calling